SHORE-S-EZ Self Deploying Pontoon Ramp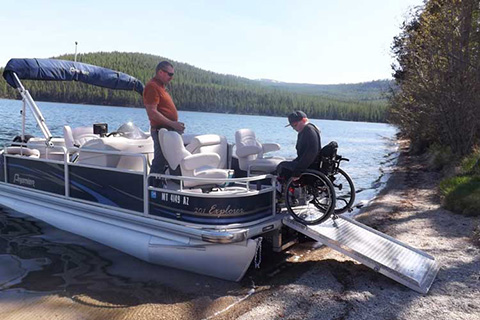 The Dishon-SHORE-S-EZ - Self Deploying Pontoon Ramp gives complete independence to deploy, exit, and access the boat without assist. Now anyone can deploy or retrieve a pontoon boarding ramp with just the push of a button.
The back of the pontoon ramp rises to closely match the deck of your boat giving step free handicap and wheelchair access.
The pontoon ramp adjusts to almost any shoreline whether high or low and it extends below the waterline to help give assistance to the handicapped and those unable to use the ladder.
PATENT # 10,266,233 B2
Gallery
Complete Kit - shipping is free.
$6,250 for 5 foot
$7,750 for 8 foot
To Order call 406-755-4701 (8am - 4pm MST) or email This email address is being protected from spambots. You need JavaScript enabled to view it.